Special Experiences At StolenTime Saint Lucia
At StolenTime, everything we do is intended to delight and enhance your personalised holiday experience. When it comes to dining, we excel. While the elegance of Trysting Place or dining under the stars at Malabar Beach Club are treasured, there is nothing like your own one-of-a-kind experience.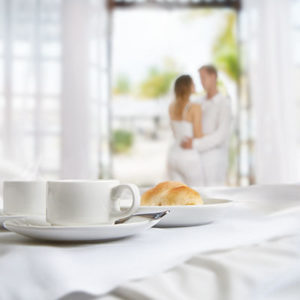 Hidden away somewhere in our gardens or beach or your private room, let us customise an unforgettable romantic evening, small party or group celebration. Any ideas you might have before you come, you can share with us, and we'll get the ball rolling before you even arrive.
Learn more about StolenTime by Rendezvous exclusive private dining options in your Webroom or with our concierge.
Explore Curated Special Experiences
Pop-Up Tables
Let your imagination run away with ideas for your private Pop-Up Table. You choose the settings, decor and music. Breakfast, lunch or dinner; at a table, on a picnic rug or in bed; under the stars, on the beach, in the garden, in the Lazy River, the spa or your balcony—whatever you choose, we'll make it very special for you. We'll help you choose the menu, (you can even go with the chef to the market to collect some ingredients) the wines, cocktails, lighting, decor and music to create the perfect happening. However you imagine the ideal setting, we can set the scene for your StolenTime.
In-Room Retreats
Lots of our guests just love asking us to arrange something special and intimate in their room or suite. We take care of all the details whilst you and your partner or travel companions are out enjoying your day. Then we create the ambiance you custom-request, whether it be scented candles, flower petals on the bed, and candlelight or a charming, evening in complete with chilled Prosecco and some delightful chocolate truffles to share with your family and friends.
You can arrange an "In-Room Retreat" in your web room or by having a quick chat with the concierge.