The Terrace
The seaside Terrace Restaurant is the culinary heart of StolenTime Saint Lucia. The restaurant is a showcase of international flavours, regional tastes and local produce, all authentically tailored for a healthy lifestyle. Our head chef serves a fantastic selection of foods. Wines are offered by the bottle and are chosen to pair perfectly with the style of cuisine. You can choose to be seated under cover or outside on the boardwalk under dreamy stars at dinner. Either way, the ocean is a few steps away.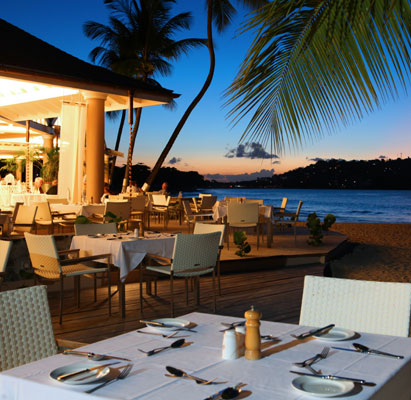 The Terrace hosts a resident's breakfast featuring our chef's delicious and healthy selections made with fresh local produce from the nearby markets. Frequently, we feature a sumptuous Beach Party B-B-Q with menus often themed with influences from the West Indies, India, China, Italy and France.
At night time, the Terrace Restaurant turns into a magical spot lit by candlelight with just the sound of the Caribbean Sea as a musical backdrop. We enjoy evenings of locally caught fish, delivered straight from the relaxed local waters that day. Be sure not to miss our themed evenings that present you with a taste of some of the finest foods in the world.